Disclosure: Some of the links below are affiliate links, meaning, at no additional cost to you, we will earn a commission if you click through and purchase. Adverts are provided by Amazon, Google and Media.net. If you wish to opt out of these adverts please click here. Read our full affiliate, advertising and privacy policy here.
Black Friday is here again!
In order to celebrate Black (Tea) Friday on 29th November, during November we've been posting a daily black tea of the day on our twitter feed with the hashtag #blackteaoftheday.  There are some classic plain black teas here, as well as some autumnal choices that incorporate warming spices and fruit into the blend. This is a list of some of our favourite black teas of the moment. If you're new to black tea, find out all about it in our guide "What is black tea?" and find your perfect autumn brew here!
Darjeeling is often called "the champagne of tea" and this offering from Vahdam is rightly an award winner in its category. A beautifully mellow black tea with notes of berries and dried fruit.
Brisk, light and refreshing, this tea is full of summer freshness. Ever so slightly malty with a hint of woodiness. This tea was a winner of a Great Taste Award in 2019.
A bold blended tea,  hand-picked from select gardens in Sri Lanka, certified USDA Organic. The leaves are blended with oil of bergamot, creating a beautiful citrus aroma, a rich taste and a smooth finish. Another tea which has received awards, this is perfect for afternoon tea.
A real favourite here at Drink Tea Hub, Teapigs produce some beautiful teas, and create all manner of exciting blends and flavours. However, this is what we reach for when we just need a good, down-to-earth honest cup of tea.  All their tea bags (or "tea temples" as they call them) are plastic-free. This is their "everyday" black tea, which in our opinion is rather underselling what is a beautiful whole-leaf tea.
A beautiful blend of black tea, apple, orange, rosehip pieces, hibiscus, calendula, sunflower petals, and cinnamon, this Pumpkin Spice tea just sings autumn with every sip. Rich, fruity, and totally delicious, this is a well-balanced blend of flavours forming a soothing drink that is perfect for cold autumn nights.
An Organic Assam Black Tea from the mountains of southern India,  Tippy Golden Flowery Orange Pekoe (TGFOP) is the very top grade of black tea available, made from an abundance of "tips", the very smallest, freshest leaves of the tea plant. This tea contains many lighter golden tan tips of the tea adding to the depth of taste. This tea has a full-bodied, rich malty flavor and makes a delicious breakfast tea. Milk and sugar complement this tea well.
An excellent, high caffeine alternative to coffee, Zest Tea Blue Lady blends a sultry Flower Orange Pekoe black tea base from South India, with an aromatic mix of orange, lemon, passion fruit, and hibiscus. A peppering of vivid blue cornflower petals and bits of orange peel make for a visual spectacle.  It contains around 150mg of caffeine per cup, which is about five times that of normal black tea so this is definitely a morning tea.
Scottish Breakfast tea is traditionally a powerful caffeine pick-me-up, comprising a blend of teas from around the world. This is a blend of black teas from India, Africa, and Sri Lanka paired with a drop of real Vermont maple syrup extract. They call it the Heritage Blend because "this tea reminds us of the people that came before us, and infused in this blend are the roots of tea from around the world." The maple syrup adds a far more subtle sweetness than you would get from sugar and this is a perfectly balanced tea.
Tea Drops are organic, pressed teas that dissolve in hot water. Think a bath bomb, but it's tea, and 20% less waste than a tea bag. Tea Drops are made with real tea leaves and this Pumpkin Spice Assam is flavoured with cinnamon, clove, nutmeg and ginger, lightly sweetened with organic cane sugar.
Containing Lynch's very special version of this classic blend of Assam, Ceylon and Kenyan teas, this is the perfect accompaniment to breakfast, or for any time of the day when you need a pick-me-up.  Hand-packed into 100% cotton, sustainable tea bags, this is a convenient way to enjoy this delicious black tea.
Organic Black Pearls are formed from a rare Spring-harvested black tea, grown and harvested in Fengqing Yunnan Province, China. This tea was hand-picked and the pearls are expertly rolled from 30 premium quality leaves and fresh, succulent buds. The resulting large pearls unfurl to dramatic proportions while steeping, revealing aromatic earthy tones of caramelized sugar with undertones of chocolate.
Described as "like Christmas in a cup", this blend consists of a malty Assam black balanced by the sweet spiciness of cinnamon and licorice. Warming, delicious and very festive, this makes you feel like you're celebrating Christmas just that little bit early.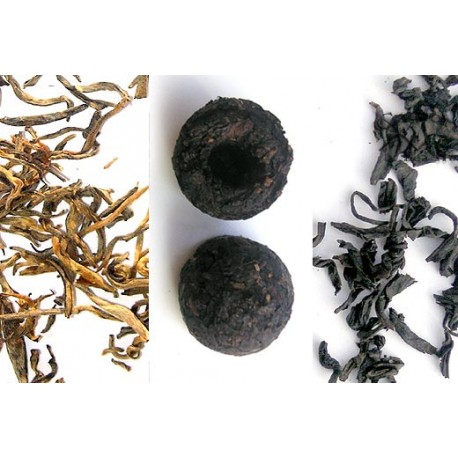 This black tea sampler contains 0.5 ounce (about 5 cups worth) each of Yunnan Golden Buds and Bird's Nest Pu-erh and Organic Lapsang Souchong black tea. Organic Yunnan Golden Buds black tea, or Dian hong, is also known as 'Yunnan Pure Gold' in China as it is considered the very finest tea. It contains only pure golden tips, covered in 'tea down.' The Bird's Nest Pu-erh is made from a large leaf variety of Camellia sinensis that grows in the Pu-erh province near Yunnan, China. Pu-erh is a 'post-fermentation' tea and is one of the only teas that actually matures and improves with age. The Lapsang Souchong is from the Wuyi region of the Fujian province of China, and  has an amazing smoky flavor and aroma due to its drying process.
We hope you've enjoyed this list as much as we have enjoyed putting it together. It's been great to try out a lot of new black teas from a range of suppliers.
Featured image: happyearthboy via Pixabay
Disclosure: Some of the links above are affiliate links, meaning, at no additional cost to you, we will earn a commission if you click through and purchase. Adverts are provided by Google and Amazon. Read our full affiliate, advertising and privacy policy here.