Disclosure: Some of the links below are affiliate links, meaning, at no additional cost to you, we will earn a commission if you click through and purchase. Adverts are provided by Amazon, Google and Media.net. If you wish to opt out of these adverts please click here. Read our full affiliate, advertising and privacy policy here.
Do you have trouble sleeping at night?
Are you looking for a natural sleep remedy? Can you get to sleep but have trouble staying asleep all night? Does your insomnia have a negative impact on your mood and performance? Are you fed up with not getting a good night's rest? If so, you are far from alone. The solution might lie in a surprising source:
Drink tea!
But not the usual caffeinated sort, rather one of the many herbal teas available for this purpose. Read on to find out more about this, and our list of the best teas for every palate to help you sleep.
Contents:
What's wrong with medication for sleep?
Prescription medications such as the benzodiazepines and Z-drugs have been around since the 1950s. Whilst they can be useful in the very short term, they induce an unnatural sleep state, disrupt your natural sleeping rhythms and it only takes two weeks of continuous use for dependency to start. This means you need to take more to have the same effect and that leads you down the dangerous path towards addiction.
They tend to make you feel groggy and unsteady the next day which is at best unpleasant and at worse dangerous. People who take these drugs are at a greater risk of falls and other accidents. Doctors are, quite rightly, increasingly reluctant to prescribe these powerful drugs to people unless they have a serious sleep disorder.
Tea for sleep
Obviously, caffeine is not good if you're trying to sleep because it promotes wakefulness. All teas that derive from Camellia sinensis contain some caffeine, so that's black, oolong, Pu-erh, green and white teas. If you're struggling to sleep, one of the first things to try is switching away from caffeinated drinks at least six hours before going to bed. Decaffeinated tea or coffee is an option but a better alternative might be a herbal tea which actively relaxes you and gets your brain and body into the sleep zone.
Some of the sleep-inducing effects of these teas are psychological rather than physiological: it's important to prepare your body and brain for sleep, to make time to wind down from the stresses of the day, to make getting a good night's sleep a priority and developing a good routine for preparing for sleep. Purchasing something which says "sleep" and using it signals to your brain that it's time to switch off and prepare for sleep.
There are a large number of herbal teas which promote sleep and will help you wake up feeling refreshed and better able to face the day ahead. Most of these ingredients have been used for centuries by herbalists and other traditional medicine practitioners for this purpose. Some of the ingredients have a definite measurable effect on anxiety, restlessness and insomnia.
Some important notes of caution
We are not qualified physicians, what we describe here are our own personal experiences and opinions which are subjective.
We are adults in mid-life and good health. Do not give these teas to children, elderly or unwell people without consulting a physician.
If you are pregnant, consult a physician before drinking any of these teas.
None of these teas are meant to treat, cure, or prevent disease. If you have a health concern, please consult a physician.
If you are taking any medications, check with your physician before using any of these teas.
Some of these teas contain natural sleep remedies. They may make you feel dizzy, unsteady and make it difficult to concentrate so only use them at bedtime.
Some people are more sensitive to these ingredients than others so it's best to try these for the first time when you don't need to use your critical faculties first thing the next morning.
Ingredients to look for in a sleep-promoting tea
Most herbal teas that promote restful sleep will contain some or all of the following ingredients which have been used by herbalists for centuries as a safe way of helping people sleep:
Chamomile (sometimes spelt camomile – in this article the spelling used by the manufacturer is the one given) is one of the most popular and ancient relaxing and sleep-promoting ingredients. Practically every herbal sleep aid will contain this ingredient. It has a mild, slightly lemony taste reminiscent of a white or green tea. It reduces anxiety and is soothing on the digestive system too.
Valerian or valerian root is another of the most well-known and ancient sleep inducers. This does more than just relax you, it really does make you sleepy. Reduces anxiety and lowers blood pressure.
Passionflower has long been used by Native Americans and was eagerly adopted by the European colonists and is prized for its anti-anxiety effects. It is another widely used sleep remedy that is a natural sedative and soothes digestive functions.
Rose petals are more often associated with aromatherapy than as an ingredient to drink but they have natural anti-anxiety and antidepressant properties as well as aiding blood circulation and improving skin conditions.
Linden flowers have also long been used in Europe to treat colds, coughs, high blood pressure and migraines, as well as a remedy for digestive disorders and headaches. It has a pleasant, slightly limey taste that is very soothing.
Hibiscus gives a deep red colour to a tea and has a slightly sharp flavour reminiscent of cranberries. It has been used for centuries by people all over the world as a relaxing drink. There is some evidence that it decreases blood pressure which would explain this effect.
Lavender is another classic ingredient in the herbalist's toolbox. In use since the time of the Ancient Egyptians, it is one of the most widely used herbs. As well as a treatment for insomnia, it is used for more generalized anxiety and to ease digestive discomfort. A very distinctive smell and taste, it needs to be used sparingly otherwise it becomes almost soapy in flavour. All the teas below which use it manage to balance it out with other flavours in a pleasant way.
Mint varieties, mainly spearmint but sometimes peppermint is used. Mint has long been used to treat sore throats and stomach aches as well as being a popular flavouring in foods, and for its breath-freshening properties in toothpaste and chewing gum.
Catnip, another member of the mint family is well known for having a dramatic effect on cats. However, it has a more subtle effect on humans. It has long been used for its quieting and calming effects. However, it has a very strong and distinctive smell and taste which is not to everyone's liking.
Lemon balm has been in use since the Middle Ages for soothing wounds, aches and sickness. It is also used for digestive problems and to relieve anxiety.
Honeybush and Rooibos are two plants native to South Africa commonly used to make tea. They have a slightly malty, grassy flavour, with Honeybush being slightly sweeter than Rooibos.
Many other ingredients can be found in sleep-promoting teas. Choose a flavour combination that sounds enticing: the last thing you need is to drink something you find unpleasant just before you try to go to sleep.
Our top six sleep-promoting teas
All of these teas are caffeine-free and have been tasted and tested by us. What we find is that we quite quickly get used to, or a bit bored of, any one of these teas, so we like to vary which one we use. Some of them have the option of buying in a tin for a first time purchase and then you can buy refills at a lower cost.
If your tea doesn't come in a resealable container, make sure you store it in an airtight container in a cool dark place. Follow the instructions for how to brew: most of them need hot water and a steeping time of a few minutes.
Ingredients: Chamomile, Spearmint, Lemon Balm, Valerian, Lemongrass, Passion Flowers, Rose Petals
Art of Tea produce some lovely teas, beautifully packaged, and this is no exception. This is a lovely smooth and mellow sleep blend, completely organic and with no added flavourings. The flavours are very well balanced so that it's not too citrusy, nor too perfumed, nor too minty. It's a relaxing, calming bedtime drink that soothes, and it is one of our absolute favourite ways to get to sleep.
Packaging: certified 100% organic by the USDA this is a loose tea and is available in an Artisan tea tin, a 4oz zip pouch and a 1lb zip pouch.
Ingredients: Camomile, Linden Flowers, Elderflower, Liquorice, Marigold Flowers, Lavender Flowers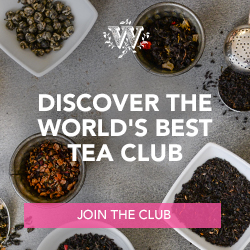 A long-term favourite of ours, we grew up drinking Whittard teas and have long turned to this as a night time soother. This is both refreshing and calming at the same time. It's soft and mellow and floral without being too sweet. No mint or citrus in this one but the linden flowers give it a slight flavour of lime that is really lovely and the liquorice gives it a delicious mellow aftertaste.
Note: the US Department of Health states that liquorice should not be used during pregnancy.
Packaging: Packaged as twenty individually wrapped teabags
Ingredients: Lemongrass, Peppermint, Camomile, Rosehip, Spearmint, Valerian Root, Hibiscus, Cornflower petals, Natural flavours.
A delicious lemony, minty tea, less floral and perfumed than some bedtime teas but still mellow enough to make you feel sleepy thanks to the valerian root and camomile. It is a tea which is nearly as beautiful to look at as it is to drink thanks to the cornflower petals.
Packaging: This is sold as a loose tea, available in sizes from a 1oz sample up to a 2.2lb bag. You will need an airtight container in which to keep this.
Ingredients: Chamomile, Rose petals, Fennel, Lemon verbena, Lemongrass, Orange peel

One for the rose lovers this one, it lives up to its name, with the rose flavour predominating. It is, however, nicely balanced by the citrus notes from the lemongrass and orange peel. It's like a luxury dessert in a mug – sweeter than some of the others on the list. It is also one of the few sleep teas that does not contain mint so if you're not a fan of mint, or don't like it at bedtime, this might be the tea for you. However, the fennel taste is quite noticeable so if you know you don't like it, this might not be the tea for you.
Packaging: This is sold as a loose tea, individually packaged into single servings with one box containing five servings.
Ingredients: Chamomile, Rooibos Tea, Peppermint Leaves, Vanilla Essence. They also have "Love, Gratitude" on the ingredients list!
Another 100% organic herbal tea this one has quite a different blend and taste from most of the others on this list, probably because if the inclusion of vanilla. I'm not a huge fan of vanilla in general but I think it balances nicely against the other flavours and is much less floral than most of the other teas on this list, which I like. A mellow and soothing tea.
Packaging: sold as a loose tea in a clear plastic pouch which makes 15 – 20 cups
Ingredients: Valerian Root, Honeybush Tea, Chamomile Flowers, Spearmint Leaves, Passion Flowers, Lemon Balm, Lavender, Cherries & Blue Cornflowers
Another tea that is beautiful to look at because of the blue cornflowers. This one has a very distinctive smell, possibly as a result of the cherries, which is a bit off-putting at first but it doesn't really taste like it smells. It has a brighter, fresher taste than some because of the spearmint and lemon balm. Delicious and calming.
Packaging: As a loose tea it is available in a small sample size which they say will make ten cups, as a pretty little 3oz tin or a 16oz refill bag. It is also available in a box of 15 tea pyramids.
In conclusion
Firstly, if you are concerned about your health, including your sleep, consult a qualified physician.
Secondly, choose a tea that you like the look and the sound of. Look at the packaging and the components of the tea. Does it make you feel calmer looking at it? Would it make you feel happier just having it in your home? If yes, then give it a try and let us know what you think in the comments below.
Disclosure: Some of the links above are affiliate links, meaning, at no additional cost to you, we will earn a commission if you click through and purchase. Adverts are provided by Google and Amazon. Read our full affiliate, advertising and privacy policy here.